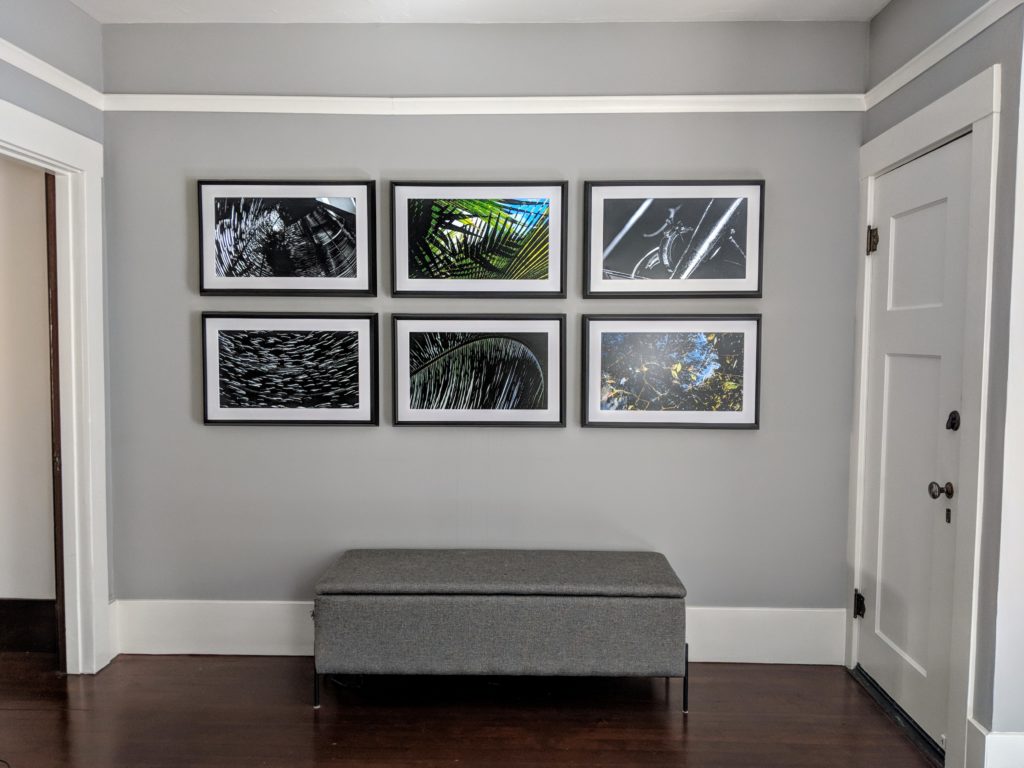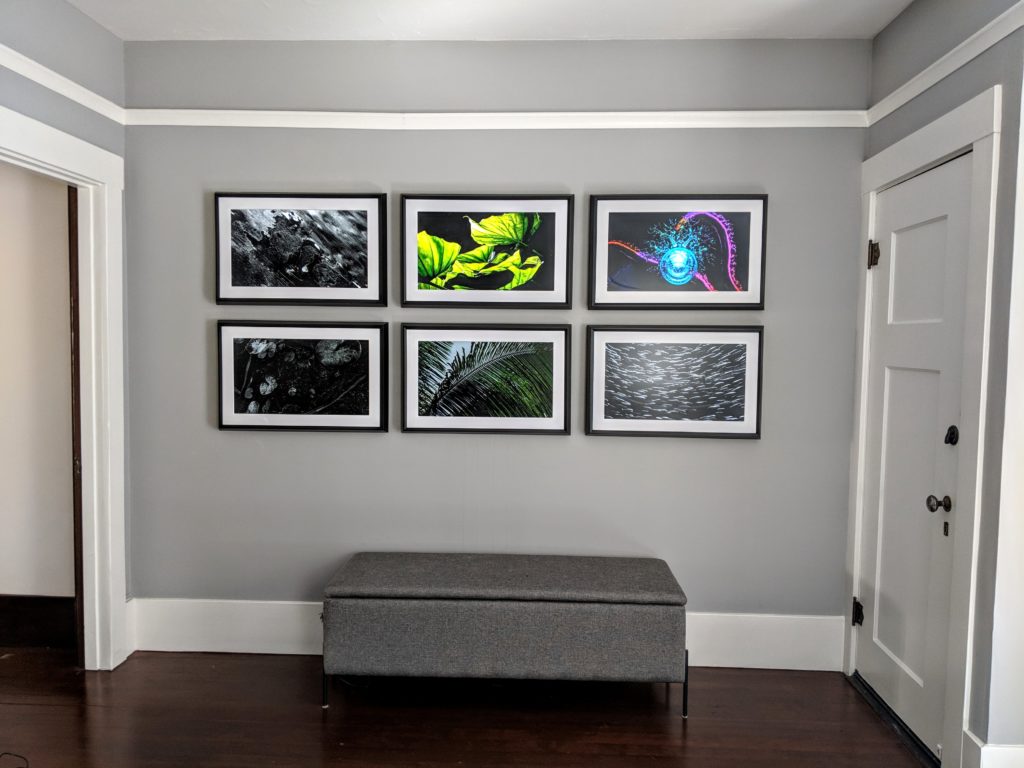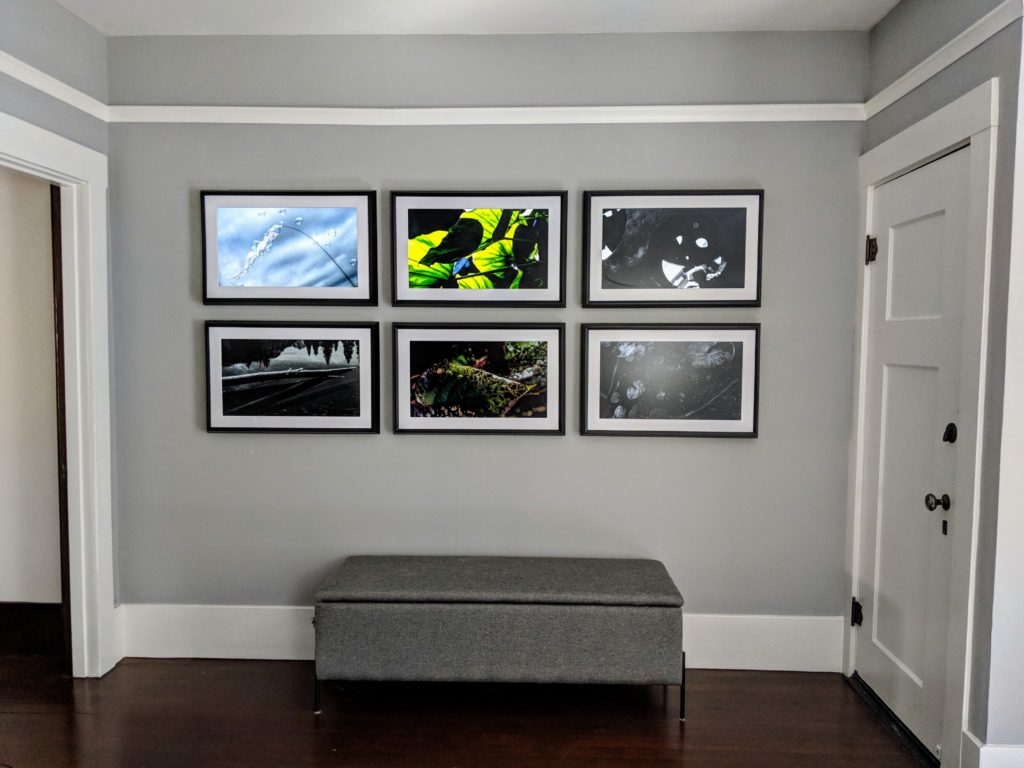 My wife is a serious amateur photographer. A few years ago, we created a photo wall in her office to showcase her framed images. We always intended to swap out the images with new photos over time, but 4 years later, the same images were in these frames…
We thought about creating a digital photo wall that's easy to update and can potentially show many more images. I bought a Meural Canvas digital frame a few months back to try it out and compare it to other options. The Meural Canvas is a 27″ 1080p LCD display wrapped in an attractive wooden frame and matte. There is a film applied to the LCD panel that improves the display. In daylight conditions, it doesn't look like an LCD display and most people would be fooled into thinking it's an ordinary framed image.
Meural devices have an onboard controller that connects to WIFI, so there would be no need to connect to an external display controller. They are ready-to-mount, so would require minimal hardware or wall preparation.
The Merual Canvas looked good, so we decided to make a Gallery Wall with 6 Meural Canvases.
Power
The biggest challenge was getting power to the devices. The Meural Canvas ships with a cloth power cord and large DC transformer. I didn't want to dangle 6 cords to the floor and have a pile of transformers.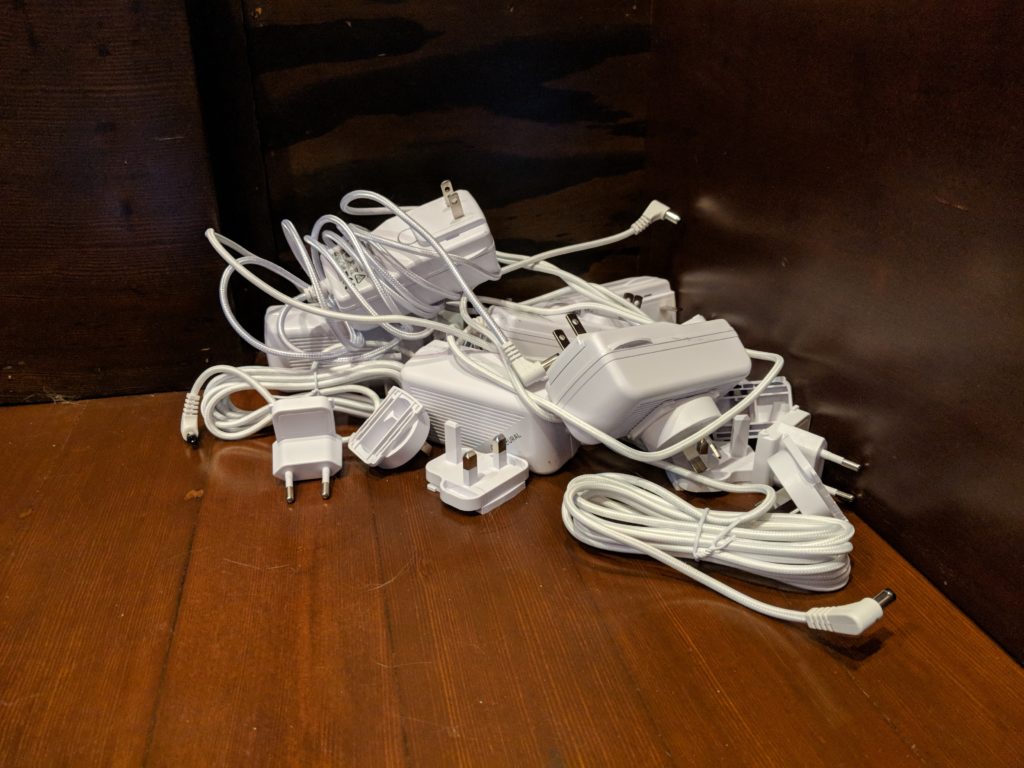 Options I considered:
Tear apart the 100-year-old plaster wall to route low voltage power behind the wall.
Carve cable-routing channels into a large sheets of 1/2″ or 3/4″ MDF, mount to the wall, and paint it to blend in with the wall.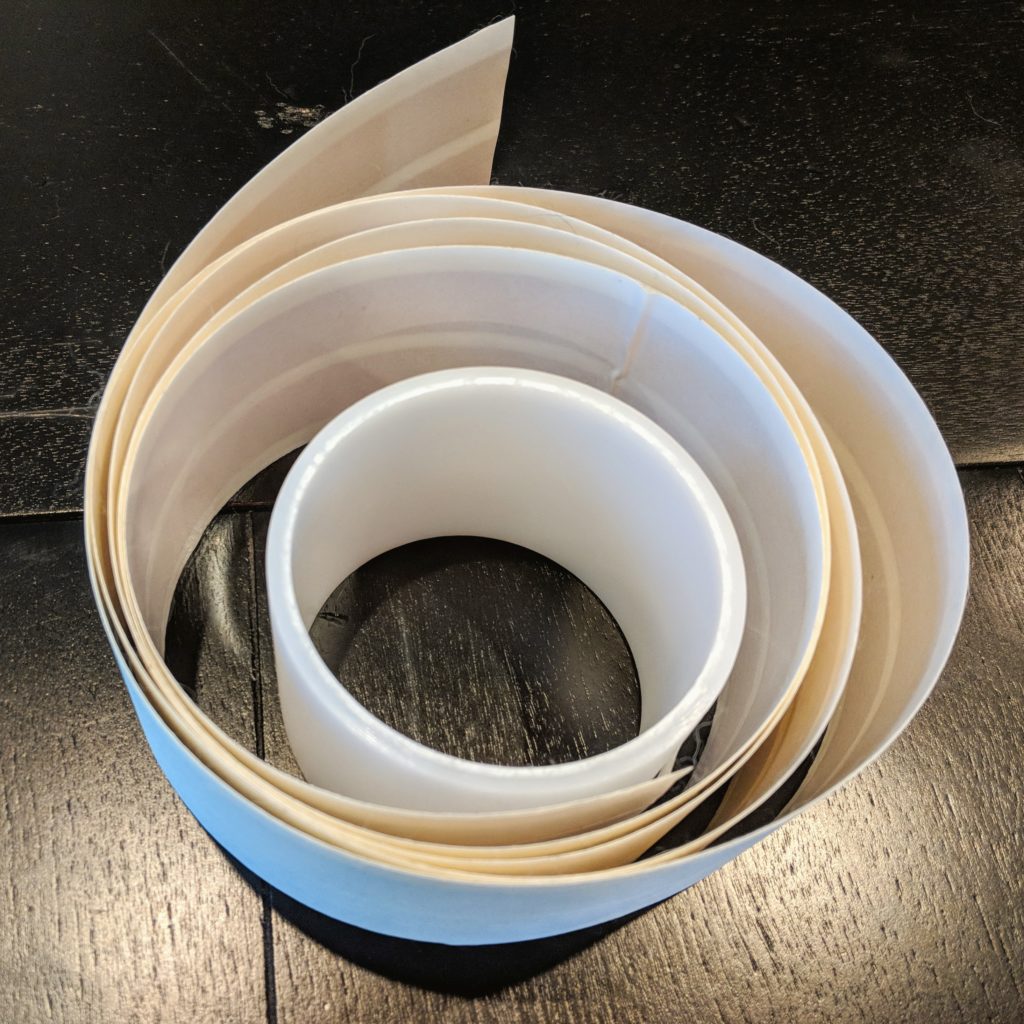 Then I found another option: Ghost Wire is flat low-voltage wire that adheres to the surface of your wall and can be finished to blend in seamlessly. They offer a 2-channel 16-gauge product that's about 2″ wide and a little thicker than masking tape. Will it work?
A Meural Canvas runs on 12V. I measured the current consumed by a single Meural Canvas. Typical was ~450mA. Peak was 1600mA (at maximum brightness). The 16 AWG Ghost Wire product is rated up to 10A. My maximum run length is less than 7ft. If I run three devices per channel (typical 1.35A, peak 4.8A), we'll have a maximum voltage drop of about 1% and typically 0.33%. This should work.
I opted for 2 parallel channels with 3 frames each. I used a single 200w switching DC transformer to power.
Mounting
Next, I mounted the devices to the wall with the provided cleats from Meural and I had two problems:
The displays weren't uniformly flush to the wall. The mounting cleats seemed to hug the wall tighter on one side than the other. This meant that a frame may hug the wall on the left and float out an inch on the right. I don't think I'd notice if I were mounting a single canvas, but it was obvious and unattractive when I mounted several frames side-by-side.
I wanted some extra space behind each frame for Ghost Wire connectors and additional wiring.
I solved these issues by mounting the cleat to a 3/4″ plywood standoff. I made the standoffs 20″ wide and attached with 5 drywall anchors each. The additional width and rigidity made it easy to level and keep flush. One of the screws in each cleat is in a wall stud.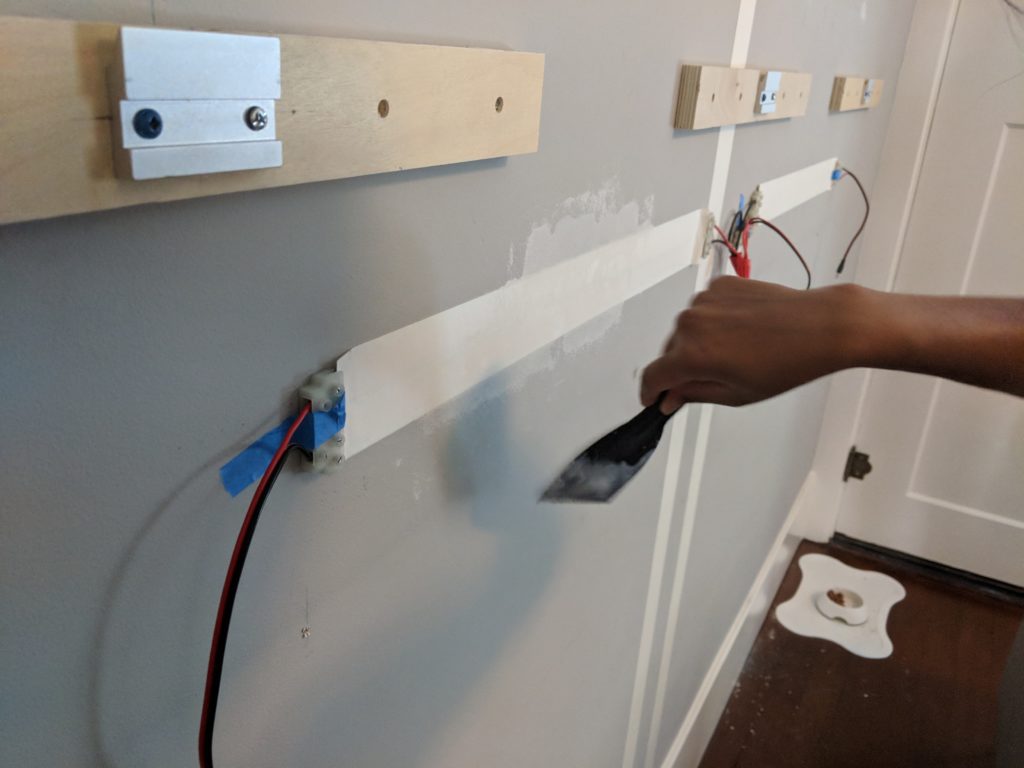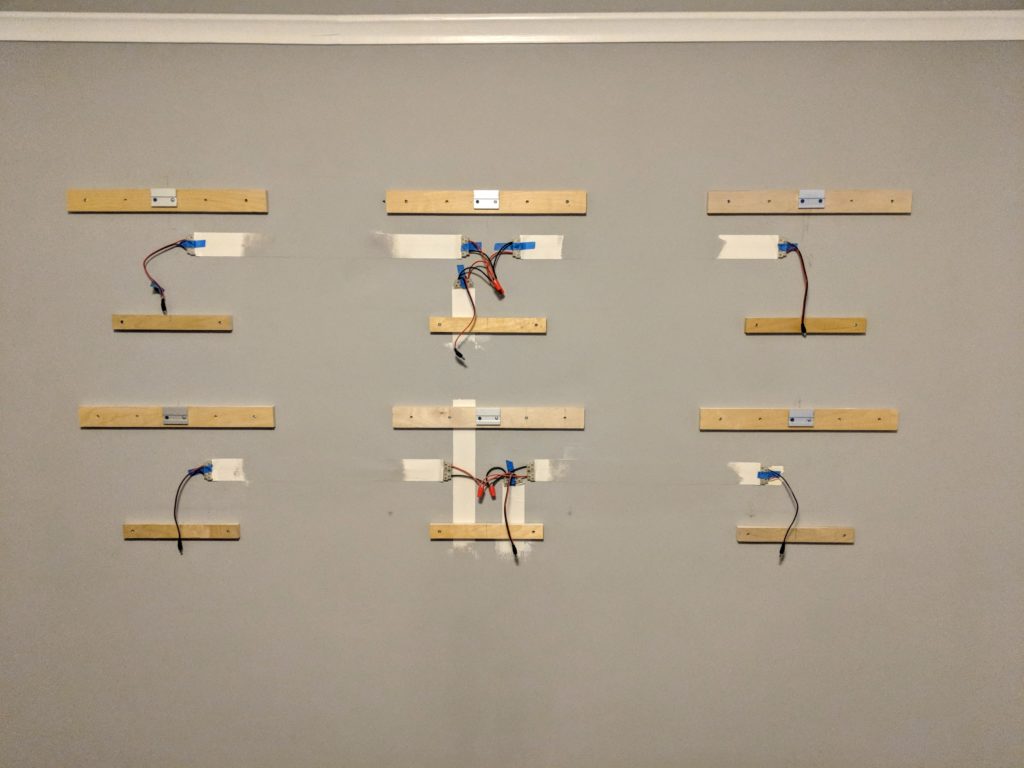 What I like about the Meural Canvas for a multi-display gallery wall:
Attractive frame and matte. Looks like a frame rather than an electronic device. Ready to mount.
Very nice display, clearly tuned for this application. Makes photos look better and more natural than an off-the-shelf 4K display.
Reasonably good mobile and web apps. We only intend to display our own images. It's easy to upload and manage image collections.
Each device connects to WIFI. Setup is easy. Each device even has a small web server with REST interface for commands, so it will be easy to make a remote or add voice-assist features for Google Home or Alexa (a practical consideration when you have 6 displays).
What I didn't like:
The device itself takes 12V DC power. It comes with a very large transformer. Meural made an attempt to make an attractive cloth cord, but it still looks like a cord and casts a shadow. For future models, I hope they offer a flat cord option and perhaps a more compact DC transformer.
Auto-brightness and standby features don't poll frequently enough (maybe hourly?) and work differently for different displays. For example, one of six displays may go into standby because it thinks the room is dark at 4PM. What gives?
16:9. Every digital display I looked at had a 16:9 aspect ratio. Photos are typically 4:3 or 3:2. Obviously, the manufacturers are using standard LCD panels, but it's annoying to have to crop (or let the Meural autocrop) all of our images.
I don't love the mounting cleat. When mounted in landscape orientation, the Meural is 29.5″ wide and the cleat is ~3″. It feels flimsy and isn't wide enough to level the frame properly. I think an appropriate cleat that could support portrait and landscape orientations would be 12″ wide.