| | | |
| --- | --- | --- |
| Posted by kyle on June 3, 2006 4:16 PM | bookmark / share: | |
Here's my first whack at a Visual Wordnet. It's the first application that uses my Force Directed Graph engine for Javascript.

Use Visual Wordnet
Yes ... Javascript. This is an exercise to see if Javascript-driven Force Directed Graphs might be useable in web application user interfaces for search, document navigation, etc. The display uses only the DOM (Document Object Model) with CSS (Cascading Style Sheets) for absolute positioning and ... being pretty.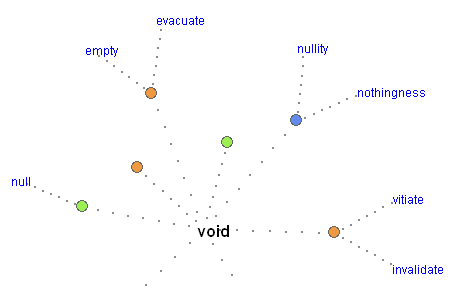 Sources and Background
Wordnet is a project at Princeton University's Cognitive Science Laboratory that provides a map of the English language. Visual Wordnet currently presents only a narrow view of Wordnet's resources.
The idea of using Force Directed and Hyperbolic graphs to display and navigate Wordnet is nothing new. ThinkMap's Visual Thesaurus is just awesome and it does a much better job scaling to support large graphs. So why write this implementation? ThinkMap's solution is implemented in Java and available as an applet. It's just not appropriate for some applications. Also ... it ain't free.
Known Issues (echoed from my initial post on Force Directed Graphs)
---
Update on Licensing:

This work is licensed under a Creative Commons Attribution 2.5 License.
As promised, I'm providing an open source license for the files referenced here. I've chosen a Creative Commons Attribution License, which means you are free to distribute the files and create derivative works as long as you include the license and attribution information contained in each file. I will follow up with a post describing each of these files to help you integrate with your project.